The World's First Net-Zero Cruise Ship
The World's First Net-Zero Cruise Ship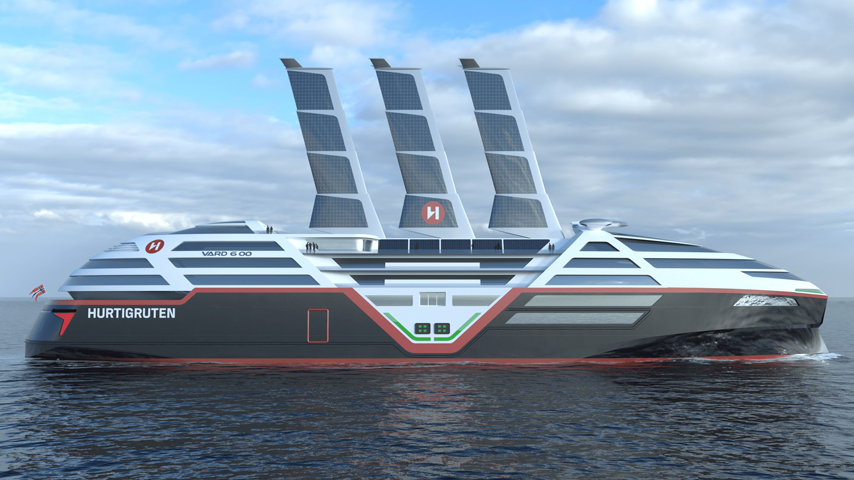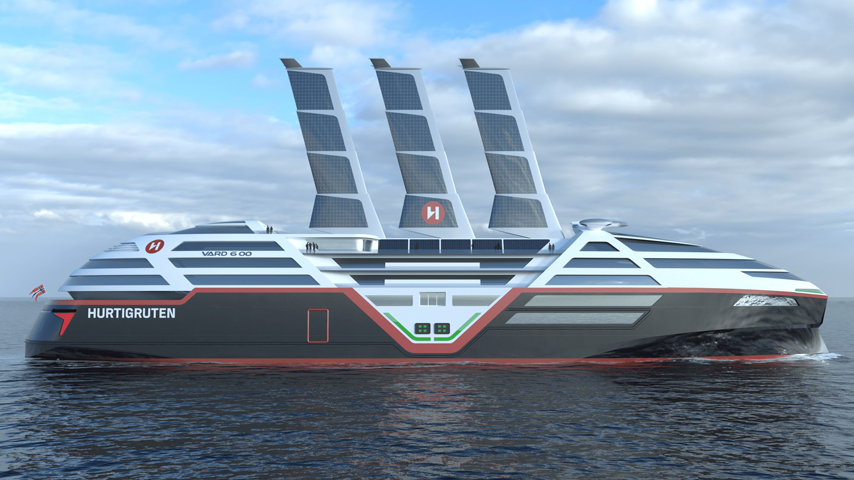 Hurtigruten Norwegian and its partners plan to create zero emission ships for the Norwegian coast that will set sail by the end of the decade.
A Norwegian adventure travel group is developing a net-zero cruise ship aiming to set sail in 2030. Hurtigruten Group and 12 maritime partners are working together to develop, design, and build a ship with retractable solar panels and artificially intelligent steering.
"One of the reasons we have this project with twelve partners is because this needs collaboration on a wide front. We need collaboration with shoreside infrastructure and collaboration with the bigger maritime industries in Norway," explained Gerry Larsson-Fedde, chief operating officer, Hurtigruten Norway.
The company's net-zero ship, which goes by the project name SeaZero, is its biggest challenge to date with a current design at 443 feet long, featuring 270 cabins, 500 guests, and 99 crew members. In addition to solar and AI features, the ship design also includes 60 MWh batteries and displays the charge levels on the external sides of the ship.
Maritime partner Corvus is "working on 60 MWh battery packs with the same volume and weight as today's 6 MW batteries. They are doing a lot of innovative research on different battery technologies to make the batteries even more environmentally friendly in the future, which is also a big focus for us," said Larsson-Fedde. Hurtigruten and its maritime partners are also studying the ship's shape to make it more aerodynamic. By creating less air resistance, the ship will travel further without increasing energy demand.
A more sustainable fleet
An electrified fleet is nothing new for Hurtigruten, which has introduced several solar panels and zero emissions vehicles such as electric snowmobiles, battery-powered catamarans, and an electric tour bus. The company also upgraded its fleet of 14 ships by banning heavy fuel oil in 2009 and phasing in sustainable biofuels to reduce carbon dioxide (CO2) emissions by 25 percent and nitrogen oxide (NOX) emissions by 90 percent. Hurtigruten also added shore power connectivity to take advantage of renewable electricity sources while docking ships.
In 2019, Hurtigruten introduced the world's first battery-hybrid powered ship and now have four such ships in its fleet. Upgrades to the HS Richard With include more efficient biofuel engines to reduce CO2 emissions, two large 1,120 kWh battery packs, and a selective catalytic reduction (SCR) system to further reduce NOX emissions by 80 percent. The HS Richard With also has an optimized hull to reduce drag, boilers to reduce energy used for heating, a wastewater treatment plant to minimize emissions into the sea, and power management systems to optimize power generation.
Lessons learned from upgrades to Hurtigruten's existing fleet are being implemented into the research, development, and design of SeaZero.
Environmental, social, and governance targets
According to the International Council on Clean Transportation, the maritime industry accounted for 3 percent of the global CO2 emissions in 2018 and 11 percent of life cycle transportation CO2 emissions in 2020. With natural gas as the fuel of choice, emissions are projected to increase 16 percent by 2030 and 50 percent by 2050. Hurtigruten's aggressive environmental, social, and governance (ESG) targets aim to reach net-zero scope 1, 2, and 3 emissions by 2050, carbon neutral scope 1 operations by 2040, and 100 percent reuse and recycling of all waste streams by 2030.
Scope 1 is the emissions an organization owns and controls directly, including combustion emissions from its fleets and emissions to provide heating and cooling throughout operations. Scope 1 is the easiest to monitor and control as the company is directly responsible for these emissions. Scope 2 is the indirect emissions a company causes, such as purchased electricity. While this scope is harder to control, energy companies often provide data on their generation sources and emissions, which allow the user to understand their emissions. Scope 3 is the most challenging to report and control, and includes employee commuting, waste generation, and purchased goods.
To tackle these goals, Hurtigruten is also exploring how to reduce the amount of energy its ships consume each day. Onboard hotel operations can consume a significant amount of a ship's total daily energy usage, including heating, cooling, hot water generation, and food preparation. A 2023 Norwegian study looking at cruise ships in the Baltic Sea found 45 percent of annual energy demand is related to propulsion, while auxiliary power and heating made up the remainder. Streamlining hotel operations to reduce energy will decrease total energy production required for an entire ship, meaning smaller power systems and a closer net-zero target.
"This is completely realistic. Even in the first iterations we can go along the entire coast, with the charging point, on full battery power. No extra fossil fuel needed," noted Lars Ole Valøen, executive vice president and chief technology officer at Corvus Energy.
Emission-free marine travel is possible, but not without investment from maritime partners to develop new technologies. As seen with SeaZero research and development to date, as well as the upgrades made to Hurtigruten's existing fleet, there is no one-size-fits-all solution to energy-efficient maritime travel. Several tweaks to the ship's design, equipment, and systems are required to reduce energy consumption, create more efficient energy when required, and take advantage of renewable sources where possible.
Nicole Imeson is an engineer and writer in Calgary, Alberta.
Related Content