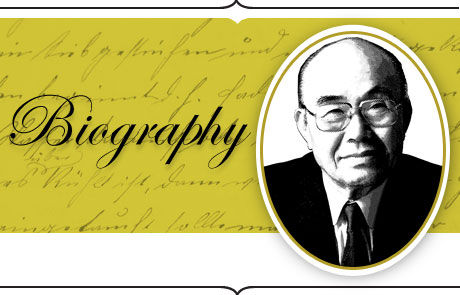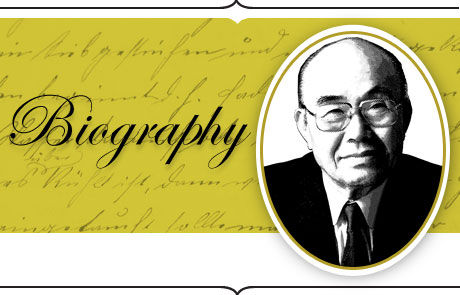 Soichiro Honda (1906 – 1991), the founder and president of the Honda Motor Company, got his start at his father's bicycle repair shop. As a child, he spent hours fixing bikes and learning from his father, who was also a blacksmith.
Honda was born on November 17, 1906, in Japan's Shizuoka prefecture, where, given that bicycles were only just starting to become popular, Honda's glimpse of a Model T one day became a life-changing event: "I could not understand how it could move under its own power. And when it had driven past me, without even thinking why, I found myself chasing it down the road as far as I could run." In 1922, that love of automobiles inspired him to leave home at age 15 to apprentice at Art Shokai, an automobile repair shop in Tokyo. The shop's owner saw in Honda a hard worker processing technical expertise unusual in one with only an elementary school education.
"At Art Shokai...the Old Man learned so much by doing real work with real machines," said Kihachiro Kawashima, who succeeded Honda at the Honda Motor Company upon his 1973 retirement. "He didn't just have theoretical knowledge—he was an expert at all sorts of practical tasks like welding and forging. Those of us who had only studied the subject on paper from an academic standpoint just couldn't compete."
In 1928, Honda completed his apprenticeship and opened a branch of Art Shokai in Hamamatsu, with his new wife Sachi serving as bookkeeper and cook for the staff. Honda began building everything from dump trucks and a repair lift for cars to racing cars using old airplane engines, and began to dream of expanding into manufacturing. But his investors, loathe to tamper with a profitable business model, refused to back him.
Undeterred, in 1936, Honda started a separate company, Tokai Seiki Heavy Industry, where after putting in a full day at Art Shokai, he made piston rings at night. Though his first order of piston rings, made for Toyota, was rejected, Honda refined the process—one of the 100 patents he would receive would be for piston design—and his business, which became a 2,000-employee supplier of parts for Toyota and Nakajima Aircraft, among other companies.
Honda was a maverick whose best ideas emerged from the most pressing constraints. During World War II, when the Ministry of Munitions took control of Tokai Seiki, he developed a technique for mass-producing wooden airplane propellers for the war effort that turned out two propellers every half hour as opposed to the week it previously took for one propeller to be hand carved manually. And after the war, with gasoline scarce, Honda, opened the Honda Technical Research Institute, where he built small2-stroke, 50-cc modified engines that could be attached to bicycles, like the one he used to get around post-war Tokyo.
In 1949, the Honda Motor Company, Ltd., released the first "Dream Type-D" motorized bicycle, made of pressed steel, because quality steel pipe was hard to come by, and painted maroon, a stylistic departure from the black paint of other motorcycles on the road. It was an immediate hit with the Japanese public. In 1953, the Honda C-100, followed, and it was that fuel-efficient diminutive bike that in 1959 became the world's biggest selling motorcycle.
But profit wasn't Honda's only motive. In March 1954, he informed employees that he had his sights on the Isle of Man Tourist Trophy, the most prestigious motorcycle race in the world: "Since I was a small child, one of my dreams has been to compete in motor vehicle races all over the world with a vehicle of my own making. …" Noting that never before had a Japanese entered the race with a made-in-Japan motorcycle, Honda enlisted his workers in the creation of a 250-cc (medium class) racer capable of clocking 180 km/hr, a project that would "bring together the full strength of Honda Motor Co. …. The future of Honda Motor Co. depends on this, and the burden rests on your shoulders."
Five years later, Honda and his workers made headway, when a team of Honda 250 ccs finished 6th, 7th, 8th and 11th in the Isle of Man 125-cc light-weight class, and won the Manufacturers' Team Award. In Germany in 1961, a 250-cc Honda became the first Japanese bike to come in first in a World GP event.
In September 1959, an American Honda Motor Company storefront in Los Angles introduced the Honda Dream, the first of several small bikes that, by 1964, were selling 100,000 a month globally. But Honda, never one to rest on his laurels, shifted gears again and jumped into the Japanese auto industry—despite a Japanese Ministry of International Trade and Industry ban on new car companies.
"Government officials ... become an obstacle when you try to do something new," he once said. Nevertheless, in 1963, Honda began producing the lightweight fuel-efficient cars in Japan that were the precursors to the 2-cylinder N600 sedan that would hit American shores in 1969. coupe followed and then in 1973, the Honda Motor Company introduced the Honda Civic hatchback.
But it was with the Compound Vortex Controlled Combustion Engine (CVCC)—and the energy crisis of the mid-1970s—that Honda made history. An inventive technical response to market conditions, the CVCC–loaded Civic complied with new stringent U.S. exhaust emission standards without a catalytic converter, something other car companies said couldn't be done. The Civic was an immediate hit, and from 1972 to 1974 it won the Car of the Year Japan award. In 1979, Honda opened its first U.S. plant.
By then, Honda was all but retired, largely devoting himself to public service. He received the Order of the Sacred Treasure, first class, the highest honor bestowed by Japan's emperor. In 1980, the year Honda Motor Company became the world's third largest automaker, ASME established the Soichiro Honda Medal "in recognition of Mr. Honda's exemplary achievements in the field of personal transportation." He was inducted into the Automotive Hall of Fame in 1989, taking his place beside Henry Ford, Walter Chrysler, Alfred Sloane of General Motors and Karl Benz. Honda died on August 5, 1991 from liver failure, at age 84. His wife, Sachi, and three children survived him.
Marion Hart is an independent writer.
I could not understand how it [the Model T] could move under its own power. And when it had driven past me, without even thinking why, I found myself chasing it down the road as far as I could run.Soichiro Honda
Related Content