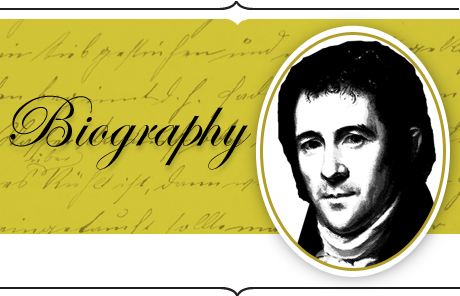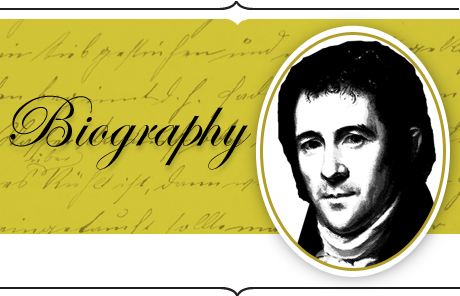 Designer. Engineer. Canal builder. Painter. Benjamin Latrobe – the "father of American architecture" – was all that and more. Emigrating to the United States from his native Britain in 1795, the versatile Latrobe discovered a young nation still searching for its national aesthetic – the perfect blank canvas for his unique vision.
Steamship pioneer Robert Fulton, with whom he would later do business, said "his genius is for works of a higher order, but he has the happy faculty of accommodating it to anything useful."
Latrobe was one of the nation's first formally trained architects and one of its earliest steam engineers. Through his designs for the U.S. Capitol and the White House, he defined the style of federal buildings for generations to come. Through his innovative public works, he brought clean water and better transportation systems to cities from Philadelphia to New Orleans.
Latrobe was born in 1764 near Leeds, England,to a schoolmaster father and Pennsylvania-born mother. Educated in England and Germany, he was fluent in multiple languages and fully steeped in the arts and classical scholarship.
Latrobe began a new life in America after his first wife died in childbirth, drawn by his mother's stories of growing up in Pennsylvania. Over the remaining 25 years of his life, he would make an indelible mark through a series of innovative design and construction projects for government buildings, banks, theaters, cathedrals, prisons and other high-profile institutional structures. He originated the Greek Revival style in American buildings with his widely imitated Bank of Pennsylvania, designed a landmark academic building for Dickinson College at no cost, and parlayed an acquaintanceship with George Washington's son into a productive network of powerful clients in the new Federal City taking shape on the banks of the Potomac River.
Latrobe pivoted seamlessly between architecture and engineering, dabbling in contracting, surveying and other pursuits along the way. Between difficulty keeping projects on budget and some misguided business ventures, Latrobe spent much of his career on the brink of financial disaster.
As an early proponent of steam power, he built Philadelphia's first waterworks. His design incorporated two behemoth steam engines to pump water from the Schuylkill River. Piping fresh water to homes for the first time in the city's history, his water system greatly reduced the incidence of water-borne infectious diseases such as yellow fever.
In 1803, President Thomas Jefferson tapped him as the U.S. Surveyor of Public Buildings. Soon he was assigned to supervise completion of the Capitol Building. He made important changes to William Thornton's original design and contributed to other iconic Washington, DC, structures including the White House and the Washington Navy Yard. Some of the best surviving examples of his interior work in the Capitol include the National Statuary Hall (formerly the Hall of the House), the Old Supreme Court Chamber and the Old Senate Chamber, with their ornate murals depicting uniquely American motifs such as corn and tobacco among the classical imagery. During James Madison's administration, he worked extensively with first lady Dolley Madison to refurbish the White House to her elegant standards.
As a surveyor and canal builder, Latrobe improved inland waterways in and around the capital to promote regional navigation. He supervised or consulted on a series of canals linking lakes and rivers with otherwise landlocked cities, creating opportunities for the emerging steamship industry and using cutting-edge technology such as hydraulic cement that could harden in water.
Latrobe knew and shared similar business ambitions as Robert Fulton. By 1813, he had grown tired of Washington life and was inspired by the prospect of earning a shipbuilding fortune. He took a short-lived job in Pittsburgh as an agent in Fulton's steamboat company, remaining in the area for the next few years building boats, taking on architectural commissions and struggling to stay out of bankruptcy.
He wrote of his struggles to get ahead: "With us the labor of the hand has precedence over that of the mind; that an engineer is considered only as an overseer of men that dig, and an architect as one that watches others that hew stone and wood."
After the War of 1812, the government called him back to Washington to refurbish the fire-damaged Capitol. He was ready.
Later in the decade, Latrobe relocated to New Orleans to complete a protracted waterworks project that had been launched by his son, who had died of yellow fever. The city had long captured his interest for its potential as a steamship port, and he immersed himself in several important architectural projects including the Customs House and the St. Louis Cathedral.
Ironically, the engineer who had done so much to rid urban cities of yellow fever contracted the disease before the water system was completed. He died in 1820 at age 56.
Michael McRae is an independent writer.
His genius is for works of a higher order, but he has the happy faculty of accommodating it to anything useful.Robert Fulton on Benjamin Latrobe
Related Content